I had the most amazing opportunity to attend a weekend conference of  speakers on health, happiness and healing.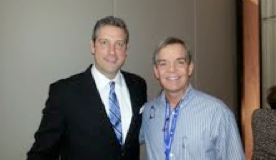 One of the most inspiring lecturer's was that from a congressman named Tim Ryan who spoke on mindfulness in our personal lives and its positive impact on the health of this nation.  Most readers may be unaware of what mindfulness concepts really consists of and the following story that Congressman Ryan told perfectly elucidates the concept.  Congressman Ryan said "I spoke to a father who now practices mindfulness in his life and he candidly told how he had attended his daughters soccer practice for years but the last game he attended was actually the first one that he had truly been present to watch the game".  So many of us are always on the path to "somewhere else" and rarely find ourselves in the present moment to fully embrace this moment only.  Our world and ego has a obsessive need to always look toward the future to fulfill our idea of completeness rather than be at ease with "this moment".  Most of us live by our to-do list as the prime motivator of our day.
Being mindful does not come natural to most of us and requires practice if we are to learn to calm the constant chattering of our brain.
Many methods exist to become the observer of the thinking mind rather than its slave and Transcendental Meditation is one technique that has been used by millions over the past decades.  Congressman Ryan does not endorse TM or any specific method of mindfulness but TM is the most utilized method to date for learning mindfulness. Opray Winfrey speaks honestly and eloquently about how it has improved her life immensely by learning TM.  Make sure to watch out the 4 minute video below…
TM has over 600 studies conducted at over 250 medical schools that verify benefits that range from lowering blood pressure, improved sleep, recovery from trauma, anxiety, fatigue, and the list goes on and on.  To view actual studies on TM and your health, visit DoctorsOnTM.org.  (you will be amazed)
When Congressman Ryan was introduced at the conference, applause was very reserved however by the end of the lecture, overwhelming enthusiasm greeted him as he finished.
For those interested in purchasing Congressman Tim Ryan book, "A Mindful Nation" click on the following link A Mindful Nation: How a Simple Practice Can Help Us Reduce Stress, Improve Performance, and Recapture the American Spirit
Disclaimer. The information on this website and the topics discussed have not 
been evaluated by
 the FDA. Or, any one of the medical profession. And it is not aimed to replace any advice you may receive from your medical practitioner. 
Nutrition World assumes no responsibility or liability whatsoever on the behalf of any purchaser or reader of any of these materials
. Nutrition World is not a doctor, nor does it claim to be. Please consult your physician before beginning any health regimen. 
If you are being treated for any medical illness, check with your medical professional before starting any protocol
.