Easy Vegan Dinner Bowl Recipe When You're Completely Out of Time
Okay, confession time. I don't follow recipes. Anyone else out there like me? But, trust me. This vegan dinner bowl is one you'll want to try. Especially if you want a nutritious meal and are short on time. It's quick, easy, and delicious!
Speaking of being short on time, between working full time, being a grad student, teaching indoor cycling classes, and training for a race, the last thing I want to do when I get home is spend a ton of time in the kitchen. The truth is, it doesn't take much time to create a healthy and tasty meal. The key is preparation! I spend a couple of hours each Sunday meal planning for the week ahead. A great mentor told me, "failure to plan is planning to fail" which is why I always make a big family dinner on Sunday evening and save my leftovers for incredible plant-based lunches for the week ahead.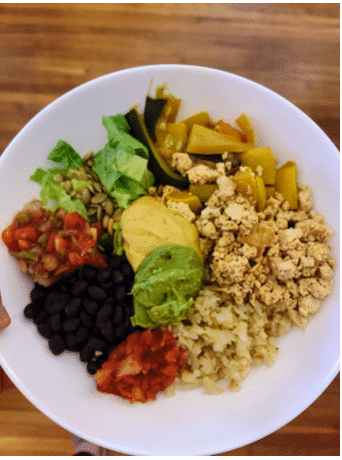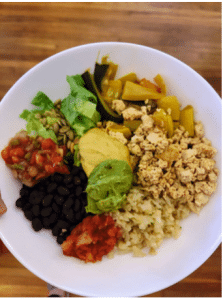 I had my non-vegan parents over for dinner this evening. They are always so supportive and curious about what I eat in a day. Tonight I chose to make them my easy vegan dinner bowl, aka my "go-to Brianna Bowl."
Tonight I chose to make a bowl filled with tofu, mixed veggies, a homemade cashew cheese sauce, black beans, cauliflower rice, and a side salad.  
Vegan Dinner Bowl Recipe
Step #1
You'll want to start this recipe out by making my homemade cheese sauce. This is the easiest plant-based cheese recipe you can make. All you have to do is pre-soak your cashews ahead of time for about an hour or so. You can drain them in a colander and put them in a blender with all of the ingredients you would like to add. I like my cheese sauce to have a little kick so I add a few jalapeno slices in with the other spices. Once the cheese is your desired texture and creaminess, stick your concoction in the refrigerator so your cheese sauce can chill before your meal is served. I put the below ingredients into a Nutribullet and keep adding spices until I find my comfort spice level which is probably spicier than the average person. This sauce will keep in the fridge for about 4 days. 
Ingredients for Vegan Cheese Sauce:
Soak 1-2 cups of unsalted cashews in water for about an hour prior to making the cheese sauce

Smoked paprika to taste (¼ tablespoon is a good place to start)

Black pepper to taste (¼ tablespoon is a good place to start)

Turmeric to taste (¼ tablespoon is a good place to start)

Cumin to taste (¼ tablespoon is a good place to start)

Salt to taste (¼ tablespoon is a good place to start)

1/4 cup nutritional yeast 

1/2 cup unsweetened flax milk or any unsweetened nut milk (You can add more depending on desired texture)

2 garlic cloves 

1-2 tablespoons of your favorite salsa 

Jalapenos to taste (I always keep a jar in the refrigerator)

Once complete, place in the refrigerator to chill. 
Step #2
Once your cheese sauce is complete, it is time to complete your veggie stir fry. My personal stir-fry favorites include garlic, onions, peppers, zucchini, and squash. I use the same spices for cooking that were in the cheese sauce in addition to liquid smoke and Siracha. Also, I have this incredible chopper that I use to chop onions, garlic, and other vegetables. I do not know what I would do without it. 
At this point in the recipe all you have to do is the following;
Add all of the veggies you would like to add. I included the following in my bowl:

Orange or Red Bell peppers (I just like the colors)

1 Yellow Onion

Garlic

Zucchini and Squash

Mushrooms

All of the spices you want to add. I love the following;

Smoked Paprika

Salt

Pepper

Cumin

Turmeric

Liquid Smoke

Salsa that you keep in the fridge

Sriracha
After I added my veggies to my lovely Le Creuset dish to cook, I added two pre-mixed cauliflower rice bags to another pot with water and two big heaping scoops of salsa for taste. I cooked this until the cauliflower rice felt dense and cooked.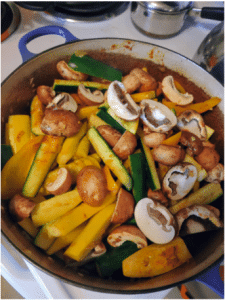 Next, I put two packages of firm tofu into two towels to let them dry. I threw them into a skillet on medium heat until they started to brown and added my favorite spices; paprika, cumin, salt, pepper, turmeric, salt, pepper, sriracha, and liquid smoke.   
Next, I added two cans of organic black beans to a pot to let them heat up. I always rinse them before heating them. You can add pepper or any spices you like. 
Step #3
Now it is time to dress the bowl.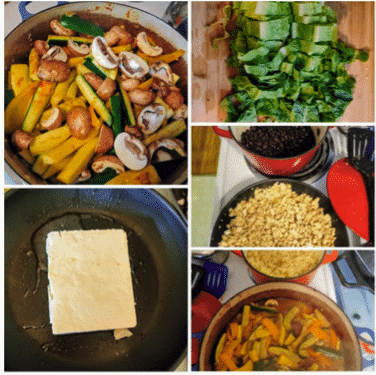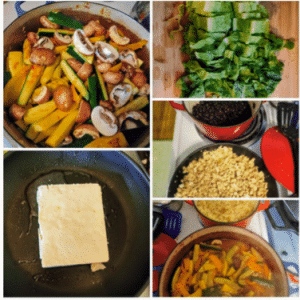 Start by adding some cut organic romaine with green onions and pepitas.

Layer on some cooked cauliflower rice.

Throw on some black beans. 

Don't forget some cooked tofu.

Try some salsa and/or pico de gallo. You can buy low sodium, organic options at most grocery stores.

Get some cheese sauce that you have been storing in the refrigerator.

Make sure to add some of your veggie stir-fry. 

And finally, add some organic guacamole if you have it. 
It is a common misconception that vegans and vegetarians ea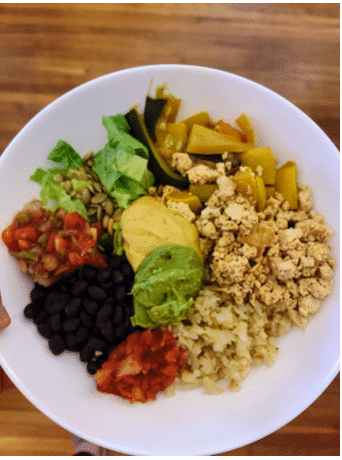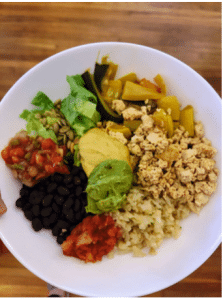 t a lot of carbohydrates. We do eat a fair amount of complex carbohydrates including beans which are a great protein and fiber source. Cauliflower rice and stir fry veggies are so easy to make. You can get your two cups of vegetables at mealtimes easily if you eat this way. This is my absolute favorite meal for dinner after a long day at work and after a great workout. 
Enjoy!
P.S. If you're looking to up your plant-based protein, we rounded up our favorite vegan protein bars here!
Disclaimer. The information on this website and the topics discussed have not 
been evaluated by
 the FDA. Or, any one of the medical profession. And it is not aimed to replace any advice you may receive from your medical practitioner. 
Nutrition World assumes no responsibility or liability whatsoever on the behalf of any purchaser or reader of any of these materials
. Nutrition World is not a doctor, nor does it claim to be. Please consult your physician before beginning any health regimen. 
If you are being treated for any medical illness, check with your medical professional before starting any protocol
.