Spending time with Dr Mercola taught me the importance of starting my day with a super shake similar to what he drinks.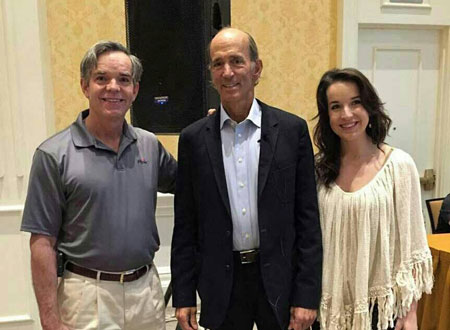 Here is the information on how and why this may be the best resolution you can have for dramatically changing your health for the future.
Clean burning fuel that minimizes the damage to cells and mitochondria which equates to anti-aging (carbs burn dirty and healthy fats run clean in our body)

Long lasting energy

Reduction of cravings for carbohydrates and junk foods

Perfect pre-workout

Supplies the healthiest and most wholesome meal possible

Organic from start to finish

Helps in weight management

Thyroid support

Easy to digest

Aids detoxification
Ingredients necessary for this high octane and supremely healthy start for your day:
Protein powder. 

Must be organic and clean such as not having sucralose or nutrasweet.  I prefer Dr Mercola protein or Sun Warrior vegan protein.

Coconut oil. 

I prefer Garden of Life brand for the ultimate in quality and purity.

Flax and Chia seeds ground.  

Demand organic or do not use.

Greens powder.

Many excellent brands available but I prefer Garden of Life or Green Vibrance.

Kefir

.  plain due to the sugar in flavored varieties.  

Organic Blueberries

. Blueberries contain one of the highest levels of brain regenerating properties along with high amounts of antioxidants available in any food today (eating non-organic is compromising your results due to the large quantities of pesticides on non-organic).  Buy frozen for best value.  

Organic Half and Half regular milk, coconut milk, or unsweetened almond milk

.
Recipe
I recommend using a Nutribullet or something similar due to the quick start to finish when blending your superdrink.
Put half milk and half water in nutribullet. (experiment with amount based on likes or dislikes of the thickness of your drink.

Add one scoop of protein powder.
Add between 2 to 4 tablespoons of chia and flax.
1 tablespoon of coconut oil. (do not refrigerate to prevent oil becoming impossible to spoon out.

Add between ¼ cup of organic blueberries.  

4 ounces of kefir or another cultured liquid.

One serving of greens powder.
If you start the day with garbage foods or no breakfast, you can never recover regardless of how nutritious your lunch and supper may be.
Click To Tweet
Blending my super drink takes me approximately 5 minutes from start to finish.  I usually mix and drink mine about 6:00AM and go to the gym.  It holds my energy and appetite all the way to lunch.  The amount of quality, wholesome and powerful foods in this drink cannot be equaled by any breakfast I know. I have stated the following thousands of times to others:
If you can start your day with a near perfect breakfast, you set yourself up for a healthy chemistry all day long, even if you make poor choices later. If you start the day with garbage foods or no breakfast,  you can never recover regardless of how nutritious your lunch and supper may be.

Disclaimer. The information on this website and the topics discussed have not 
been evaluated by
 the FDA. Or, any one of the medical profession. And it is not aimed to replace any advice you may receive from your medical practitioner. 
Nutrition World assumes no responsibility or liability whatsoever on the behalf of any purchaser or reader of any of these materials
. Nutrition World is not a doctor, nor does it claim to be. Please consult your physician before beginning any health regimen. 
If you are being treated for any medical illness, check with your medical professional before starting any protocol
.